Description
Available from Rhino BDS the Efflorescence Remover+ is a non-acid chemical with the added advantage of neutralising the salts on and within the substrate reducing the possibility of a re-occurrence of the white deposits.
What is efflorescence? The term is generally applied to any white deposit that appears on paving, brickwork and cement. However, the white deposits can be one of many salt types and different products are required to treat them.
If the deposit is fluffy in nature and can be brushed or washed off then it is likely to be sodium based. The correct product for this is Efflorescence Remover+
However if the deposit on the surface is hard and doesn't dissolve with water or will not easily brush off, then it is likely to be calcium based. For this problem use Mortar Stain & Calcium Remover. This removes the white deposits but cannot prevent the possibility of re-occurrence.
Key Features of Efflorescence Remover+
Salt stain neutraliser for walls, paths and block driveways
Contains no hydrochloric or citric acids
Easy to use
Low Odour
1 Litre covers up to 60 square meters
                               Before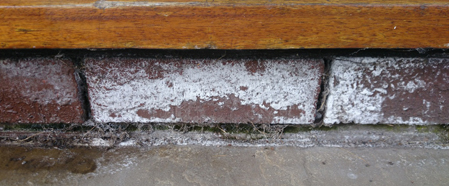 After

Try out our other EASYCare Products!
Price Includes VAT
Only logged in customers who have purchased this product may leave a review.
Customers who bought this, also loved