Creative Vegetable Garden Ideas
Creative Vegetable Garden Ideas
A vegetable garden doesn't necessarily have to feature neat rows in backyard soil, the seeds and seedlings simply can't wait to grow and will do so just about anywhere you put dirt! Be creative about the design of your vegetable garden, let it reflect your mood and living space. Here a few ideas to give you some inspiration..
Veggies in Hanging Baskets
Do you ever wish you could grow more vegetables but you're simply lacking the garden space to do so? Well you can make that dream a reality with Hanging Baskets. Although the vast majority of wicker/wire baskets you see will be housing flowers, vegetables work just as well. As well as this,  you have the choice to hang them wherever you desire and even move them throughout the day to absorb as much sunlight as possible. An additional benefit is that the height keeps the precious veggies out of range of snails, slugs, moles and ants.
When in a hanging basket, most small veggies will grow happily, but there are a few that work particularly well. Strawberries and Cherry tomato plants grow well and look lovely as they spill from the baskets. Lettuce is another one, an added benefit is being able to easily pick off the leaves without bending over, and you can even create a hanging herb basket filled with basil, parsley, thyme, chives and sage.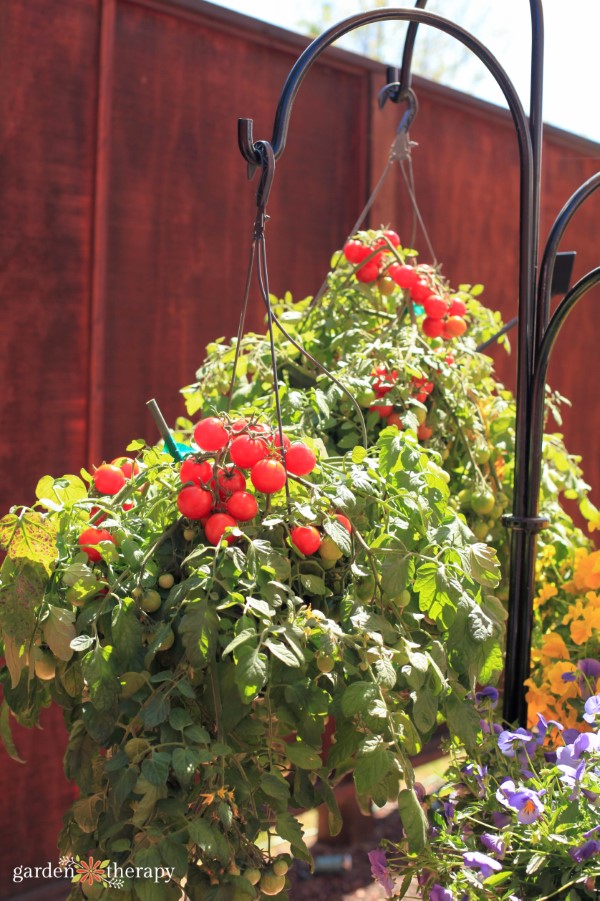 Veggies in Containers
If you're limited to a backyard with very limited garden space but an abundance of level areas such as patios, pool areas and sidewalks, have you considered utilising containers for your veggies?  There are a multitude of possibilities for what container(s) you could use such as vintage cans, plastic buckets and wooden wine crates, as long as the containers have multiple drain holes it'll do the job, then fill it with quality soil and pop it in the sun.
A container will successfully grow almost any vegetable, including beets, beans, green peppers, chard and tomatoes. We recommend choosing a "bush" or "dwarf" variety for sprawling plants such as tomatoes and beans.
Veggies on Pallets
It sounds kind of weird when you first hear about it, but using wooden pallets to grow vegetables have become very popular recently. The vegetable garden layout could either be vertical or horizontal, for the latter, lie the pallet down on worked soil and press into it so that it stabilizes in the soil, afterwards add soil to the open rows for planting. This is by far the easiest raised vegetable garden bed to create.
If you're lacking space, you could layout your pallet vertically, such as leaning it against a wall or attaching it with L-brackets. First things first, you will need to staple garden fabric tightly across the back side of the pallet, followed by adding a thin piece of plywood for security. Ready your potting soil and start filling up the open rows on the front of the pallet, Add the seedlings by placing their root balls between the wooden slats and into the soil, ensuring the soil is tucked firmly around the seedlings.
Veggies Intermingled with Flowers
Is isn't uncommon to see gardeners keeping their flower beds and vegetable gardens separated, but why not mix and match? The garden becomes more colourful than a regular veggie garden, which isn't the only benefit. Experts agree that neighbouring flowers help veggies grow better!
How you may be asking? Well, planting your veggies with a profusion of flowers helps regulate and encourage insects and pollination, respectively. The bright blossoms attract beneficial insects and pollinators, having a variety of flowers and veggies in a single patch can also help camouflage particular veggies that have a scent that often attracts hostile creepy crawlies.
For example, if you were to plant marigolds with your veggies, Japanese beetles will ignore the vegetables and flock to the flowers instead. Also, violas could attract female beetles who intend to lay eggs. This larvae would then hatch and clean up the aphids that are consuming your broccoli.
These are just a few ideas to help get those creative juices flowing!
Send in pictures of your vegetable garden to alex@rhinobds.co.uk to be featured on this page!
Share this story
More from Rhino BDS